The Pastry Lover trait: this is my new trait for the pastry lovers of which I am a part! This new trait adds 10 new buffs, and 3 new social interactions, one of which allows you to receive the Baking skill by sharing baking tips.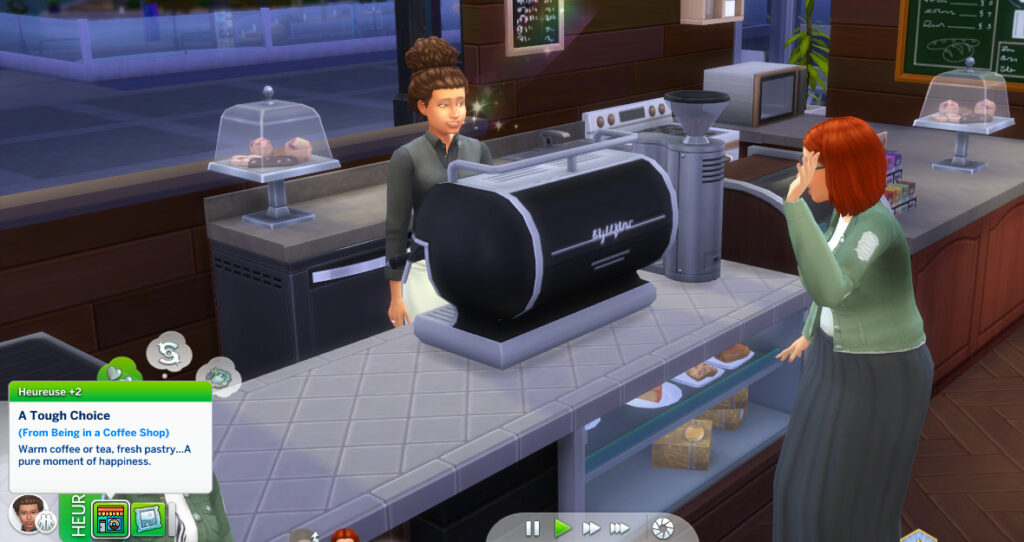 Your Sim will get different buffs depending on the situation, baking a cake, talk with other Sims, being in a coffee Shop, watching TV or if your Sim hasn't baked anything for long time…
You can also ask another Sim for his favorite cake. Your Sim will get an answer from the other Sim.
The Sim with the Pastry Lover Trait the following skills will increase:
Baking Skill
Cooking / Gourmet Skill
Increase Culinary Career performance / Daily Task
Motive Fun
And much whims…
I plan to add other things to this trait in future updates, such as going to baking classes.
Thanks to Annett for her beautiful waistress outfit named "Cake" that I used for my pictures and LeoSims for all fabulous cooking clutter. The icon I use in this mod are provided by Flat Icon.
🔹 Mod requirement 🔹
Get To Work Stuff pack
Available languages : 🇫🇷 / 🇬🇧 Other translations are welcome
🇪🇸 Spanish (Thanks to Gonzii)
🇷🇺 Russian (Thanks to Trail of Blood)
🇧🇷 Brazilian Portuguese (Thanks to Karolisims)
🇸🇪 Sweedish (Thanks to Letrax)
🇨🇳 Chinese (Thanks to MuMu)
🇮🇹 Italian (Thanks to xISYx)
Check the Mod Status before downloading
⚠ Please, before downloading Mod or CC read Term of use (T.O.U).
Download : Patreon (free)