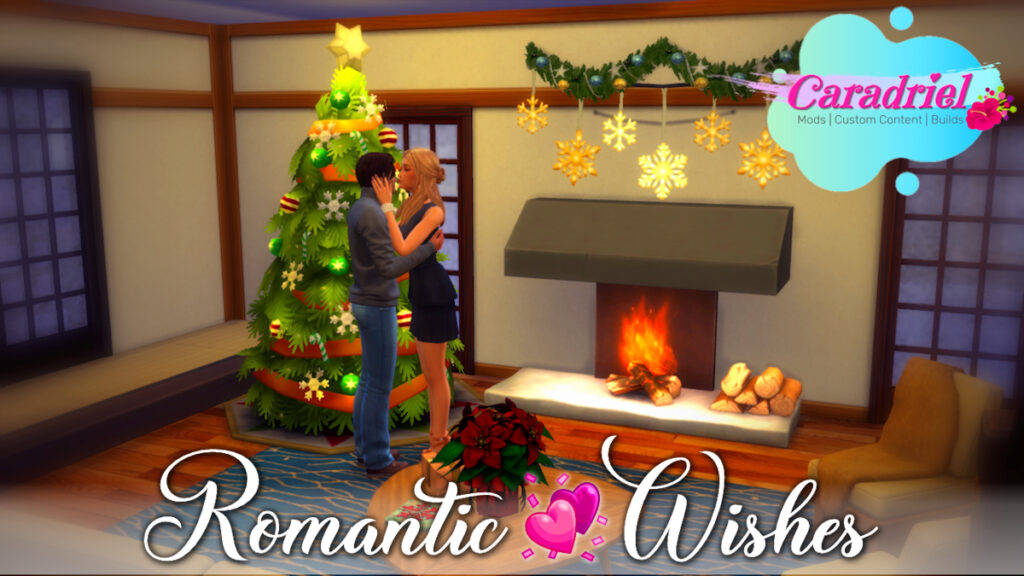 I share here my little Christmas gift for you 😊
This mod gives you the possibility to share Romantic Wishes (Seasons Pack is required) with a loved one. These 7 new interactions can be found in the new Romantic Wishes menu in the Love Section.
These interactions are usable by Sims from young adults to elders.
Attention you will not see all the interactions as on the picture, it is only to illustrate the interactions available with this mod.
These interactions will be displayed based on the seasons in your game or if a Sim has just celebrated his birthday for exemple.
⚠ First Year Together interaction is no longer available, and has been replaced by Couple's Anniversary.
Here's an example, in my game it's Spring right now and by clicking on the menu, I have two interactions for this season.
All interactions have custom moodlets for both Sims.
If you would like to have more interactions, don't hesitate to talk to me about it, but I can't promise that all of them will be added.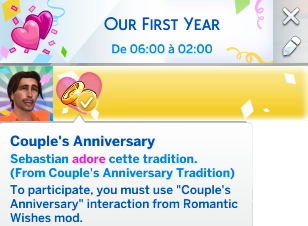 Couple's Holiday Tradition
Add to the calendar your Couple's Anniversary to celebrate it each year!
Happy

Holidays
🔹 Mod requirement 🔹
Basegame
Seasons Pack
Available languages : 🇫🇷 / 🇬🇧 Other translations are welcome
🇷🇺 Russian (Thanks to Trail of Blood)
🇨🇳 Chinese (Thanks to Greenonionc)
🇮🇹 Italian (Thanks to xISYx)
🇳🇱 Dutch (Thanks to Gothique Simmer)
🇵🇱 Polish (Thanks to Dariaxx)
🇧🇷 Brazilian Portuguese (Thanks to Amazonidagirl)
Check the Mod Status before downloading
⚠ Please, before downloading Mod or CC read Term of use (T.O.U).
Download : Patreon (Free)