It's been a while since I've shared a mod, and I'm sorry for that, but I also have a lot of work to do and on another site where we share French translations for The Sims 4 mods.

I'd still like to offer you a few things for Halloween, so here are 4 new mods to celebrate it, you can easily complete with the original traditions in game! I also share with you an Odd Job specially created for Halloween.
With these 3 new Halloween traditions, you can use the Pumpkin Carving Station, Grab a slice of Zombie Cake (you need level 4 in Baking skill to make a Zombie Cake) and Grab Candies in the Spooky Candy Bowl.

How to participate:
Grab Candies – Click on a Spooky Candy Bowl and grab some candies
Pumpkin Carving – Click on a Pumpkin Carving Station and choose any shapes
Zombie Cake – Grab a slice of Zombie Cake
Pumpkin Delivery Odd Bob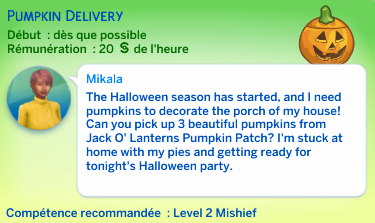 With this new Odd job 🎃 Pumkin Delivery 🎃, your Sim will have to pick up and delivery 3 nice fresh pumpkins to the client!
The odd jobs appear randomly in game and change every Sim day. So don't worry if you don't see it right away.
Odd jobs are accessed from the phone under the "Work" tab. These jobs appear on a panel that displays a selection of ads posted by NPC Sims (source : Sims.fandom)
👻Happy Halloween👻

🔹 Mod requirement 🔹
Spooky Stuff Pack is needed for the Traditions
Island Living Stuff pack is needed for Odd Job
Available languages : 🇫🇷 / 🇬🇧 / Other translations are welcome
🇧🇷 Brazilian Portuguese (thanks to Qlaqercoixsa)
Download: Patreon (free)